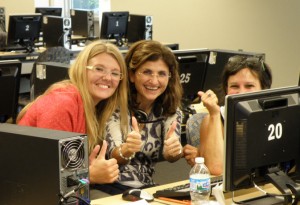 Registration for the 2012 MCC Math & Technology Workshop opens today at Noon EDT.  Participants from all over the world are welcome, as long as you can speak English. 🙂
You can find information on the workshop and registration information at the website:
2012 MCC Math & Technology Workshop
The cost for the 2012 Workshop is $160.  Hotel is very reasonable at $69.99/night (+tax).
The registration is two-tiered.  First you'll need to submit your information, and then after a quick check to make sure you're the first registrant from your institution, we'll confirm that you can continue on to complete the payment portion of registration.  If you are not the first person from your institution to register, we'll place you on the waiting list.  As plans change over the next year, there are usually 3-5 positions at the workshop that become available to the waiting list.
Each participant has to complete a final 5-minute presentation on the last day, and I thought I'd share one of the best presentations from last year (with Karen's permission), called Once Upon a Time in Technologyland.
Hope to see you at the 2012 MCC Math & Technology Workshop!