PhET (Physics Education Technology) consists of a group of scientists, software engineers, and science educators from the University of Colorado at Boulder, who are striving to create effective, interactive learning tools.  Their work spans the fields of physics, biology, chemistry, earth science, and mathematics.  Much care has been taken in the design of each simulation.  The developers use a research-based  strategy to implement the most effective visual cues for learning.  User-interviews are held routinely.   Members of PhET have learned that animated responses are effective, as well as,  the use of a "click and drag interface".  There's more:  each simulation comes with lesson plans that have been submitted by instructors.  The simulations are free and require flash and java to run.
Here is an applet on estimation:
Here is Calculus Grapher, which shows the relationship between a function and its derivative.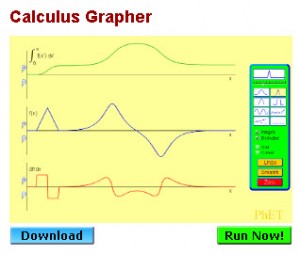 And a Plinko Probability applet that shows a histogram that approaches the Binomial Distribution.