The 5th annual MCC Math & Technology Workshop will be August 6-10, 2012.  It seems hard to believe that we've been welcoming math instructors to Muskegon to learn about technology for four years now, but I guess it must be so.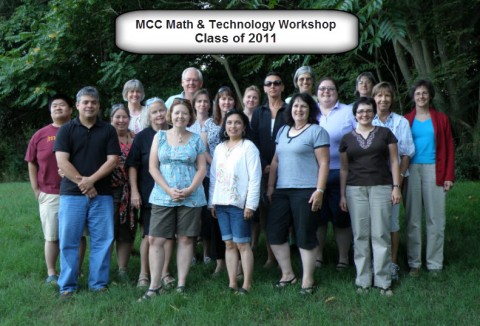 Registration for the 2012 "Math Tech Bootcamp" (as its affectionately known as) will begin at Noon EDT on November 9.  I'll be posting a link to the registration information on the morning of November 9 (register fast, this usually books in less than one week).
Thought I would share some of the comments from 2011 participants:
I would definitely recommend this workshop. I've attended many workshops and professional development activities over the years and was already using or somewhat knowledgeable using many of the things talked about but I learned SO much! Tips and tricks and more efficient uses along with new ideas for use have been invaluable!
This workshop is great to help instructors bridge the technological gap which opened since their last computer class! No teacher left behind!
I learned all of the things about that 'I was afraid to ask' about. I am not alone in being technologically challenged!
This workshop is great value for the money because regardless of your level of experience with a specific item, there is something to be learned. In addition, this workshop truly is a "bootcamp" – it is intense, fast-paced, tough, and ultimately transforming.
This workshop is definitely worth a small investment of time and funds in order to learn more about internet and technology. I was really surprised how much I learned about the tools I already use that improves my experience with them.
It was a fantastic opportunity to learn about new and not-so-new technology in an environment that was supportive and encouraged playing with it.
Before the workshop I knew very little about the possibilities of using technology to enhance student learning, aside from using a graphing calculator in class. Now I feel I will be much more effective as an instructor. I can't wait to get started with the new technologies that I learned about.
The MCC Math Technology Workshop was excellent. It was well-organized with relevant, useful information. The best feature was the time to work in a lab setting with colleagues from your discipline. A lot of GREAT ideas were exchanged and I left the conference with great free software and hardware, but more importantly a jump drive of ideas, finished work and I am looking forward to implementing as much as I can right away.
One week to learn am amazing quantity of technology. Many different software and hardware are explored. It is definitely the most important and educational conference that I have ever been to in my life. An absolute MUST for mathematical educators.
This MCC work is the best for the money you spend and for the knowledge you learn about technology and teaching. An added feature is the location in Michigan.
Packed with information and hands-on experience. Great coverage of hardware and software to get you up and going RIGHT NOW with using technology in your classes.
There you have it.  If you'd like to attend, mark your calendar to register on Wednesday or as soon as possible thereafter.  We allow one participant per college in the first cut for registration.  The registration fee is $160 (includes lunch and snacks), and hotel runs $69.99 per night (+tax) with free breakfast and wi-fi.  Transportation to/from airports, hotel, and workshop site can be provided.