There are lots of email annoyances that make us groan:
When "Reply All" is used instead of "Reply"
When someone has a bad grammar or spelling error
When someone replies to the wrong person (the "wrong Bob" problem)
Weird formatting errors (like sudden font changes)
But these aren't the reason we hate email, and most of these types of errors are just simple human error.  A consequence of too much multitasking and scattered thinking.The reason we hate opening our inboxes is that many emails, like the "kitchen sink" email (see below), are too difficult to tackle. Emails like this paralyze us and stall our to-do lists.  These "kitchen sink" emails (and other annoying email types) arise from senders who still treat email as the equivalent of a written letter of correspondence to Grandma.  But email (which is now 40 years old) is no longer a substitute for formal written conversation.  It's now a substitute for conversation.If we could just agree on a few things within organizations, email could be easier for everyone.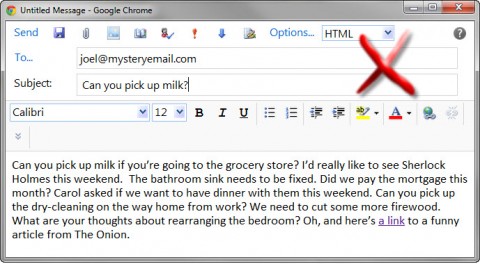 I was intrigued by Chris Anderson's Email Charter (from June 2011) but I didn't think it was quite right for my organization (a Community College) and a little too technical when dealing with students.  So I wrote the following "Email Manifesto" that I think would improve dealing with the most time-sucking email problems at my college and presented it to the faculty yesterday.  It consists of eight basic axioms:
1.  An email should have one clear subject.
2.  Emails should be simple to respond to and to dismiss when completed.
3.  When an email "conversation" takes a U-turn into new territory, a new subject line is in order.
4.  Need to arrange for an in-person meeting? Suggest several possible meeting times in the first email communication.
If the person has a secretary, include them in the meeting request.
If there are several people involved, use a Doodle.
5.  If you want the recipient to take additional action outside their normal routine, make it as easy as possible for them to do so.
Don't place the text of the message within an attached document if it can be pasted into the body of the email.
Include an easy-to-share blurb and link to website for more information for events, in particular.
Don't link to files on drives that are only available on-site.
6.  If the message contains a lot of information, make required actions clear (bold them or use another color of text).
Use phrasing like "What I need from you is …"
Consider placing the actions at the beginning of the email, followed by the rationale.
7.  There's nothing wrong with a short email message or response – don't take offense when you get one. The important thing is that the recipient took the time to read and respond. Lots of emails get answered from a very tiny keyboard or touch-keyboard.
8.  Because it's difficult to read voice inflection, facial expressions, or body language from an email, consider using emoticons or expressions to convey these emotions.
Perhaps this is a jestful comment: Are you kidding me? 😉
Perhaps it makes you sad: Are you kidding me? 🙁
Perhaps it makes you angry: Are you kidding me? <fuming>
Perhaps you are sympathizing: Are you kidding me? <hug>
There are handouts (short and long) and a slide presentation.
Please feel free to share the Email Manifesto, modify it, and give the presentation – just include the author slide with my contact information.  Just a note about the presentation, when you get to the slides about Axiom #8, have your audience read each statement out loud.  This will quickly make the point about why we should use emoticons in email.